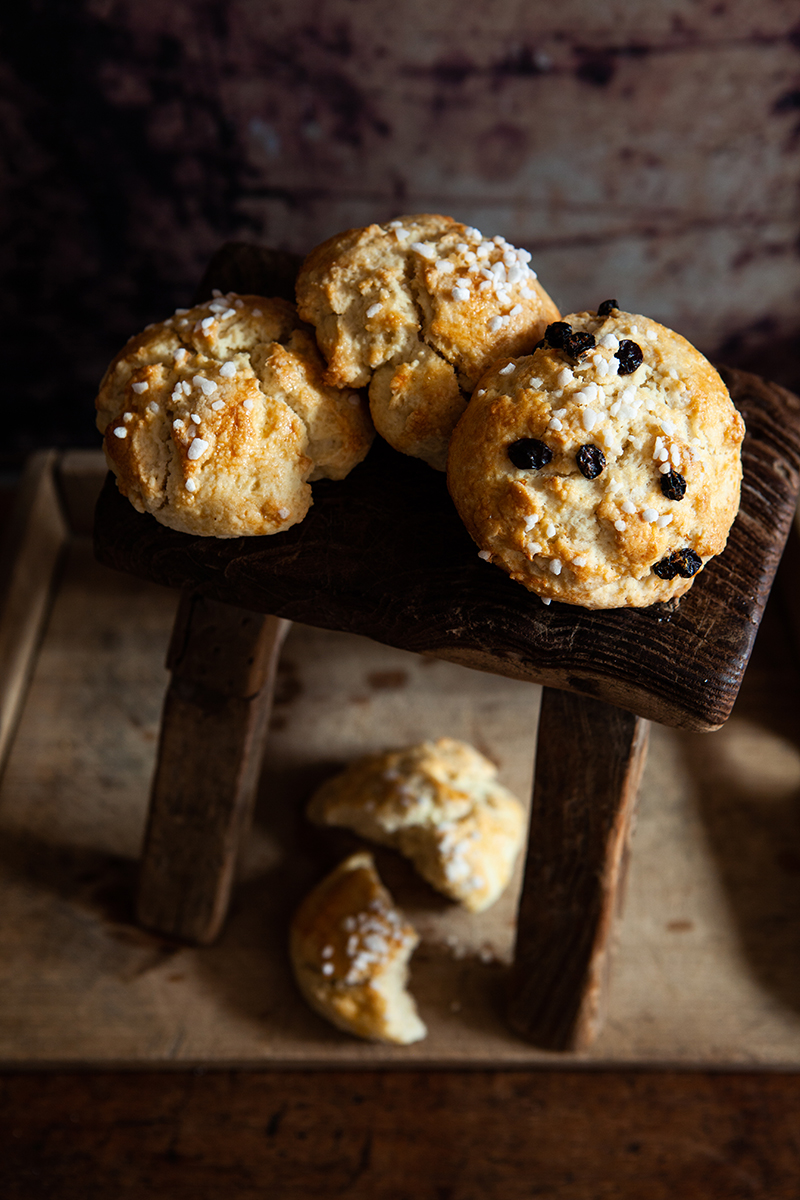 Brighton Rock Cakes
Usually these buns appear as 'Rock cakes' or 'Rock buns' in old cookery books, but in 1854 two recipes for Brighton rock cakes appeared in George Read's The Complete Biscuit and Gingerbread Baker's Assistant. Read gives a recipe for Brighton rock cakes and another for Brighton pavillions. The latter are made the same way as Brighton rock cakes, but are finished with a topping of currants and coarse sugar that, he says, should be 'as large as a pea'.
You can still buy Brighton rock cakes in the seaside town of Brighton at the Pavilion Gardens Café. The open-air kiosk at Brighton Pavilion has been selling Brighton rock cakes since 1940, and possibly even longer if we look at Read's recipe from 1854. Rock cakes are popular throughout Great Britain and Northern Ireland, and often appear in literature. In Harry Potter and the Philosopher's Stone, Hagrid serves them to Harry and Ron, and Agatha Christie also mentions them in more than one novel.
I wanted to share this recipe in publication week of my new book Oats in the North, Wheat from the South because currently I am missing the sunny Brighton beach, the buzzing pier, and the busy Brighton lanes with its independent shop walhalla. I miss the days without worry when we drove over to the UK for a weekend, antiquing, walking, eating… When the Corona crisis is over I'm planning a trip, but I wonder how we will feel post Corona, will we be free of worry or will the way we live change?
But for now, we can bake, do join my #bakecorona on social media.
This recipe only uses one egg, in a time when eggs are dear this recipe might be a solution, other recipes from the book which can be handy during shortages are the Soda bread – to save yeast, the Parkin – to save sugar, the Cornish Heavy cake NO eggs at all, Yorkshire parkin – just oat flour needed, the fat rascalls – just 1 egg needed, Swiss roll – no baking powder but lots of eggs, Flapjack – uses just oats or leftover muesli. And to save an egg, I use an egg less in my pound cake! Happy baking… 
Recipe from Oats in the North, Wheat from the South, published with Murdoch Books and available here >
225 g plain (all-purpose) flour
100 g raw cane (demerara) sugar or white sugar
1 tsp baking powder
1/4 tbsp mixed spice
pinch of sea salt
75 g chilled butter, diced
1 egg
3 tbsp full-fat milk
50 g currants
30 g  candied cedro (optional)
3 glacé cherries, halved, to garnish (optional)
nibbed sugar, to garnish (optional)
Mix the flour, sugar, baking powder, mixed spice and salt in a large bowl. Add the butter and rub it into the flour mixture until it has the consistency of breadcrumbs.
Stir in the egg, then add enough milk to bring the dough together without making it too wet. If the dough is too dry to press together, add a teaspoon of milk. Fold the currants and candied cedro through the dough. Form six rock cakes using two forks – this will help achieve a rugged, rocky look. Place on the baking tray and decorate with the cherries and sugar, if using. Bake in the middle of the oven for 15 minutes until the rock cakes have a golden blush.
This recipe for Brighton rock cakes contains candied cedro, but most rock cakes only contain currants, so you can easily leave it out.