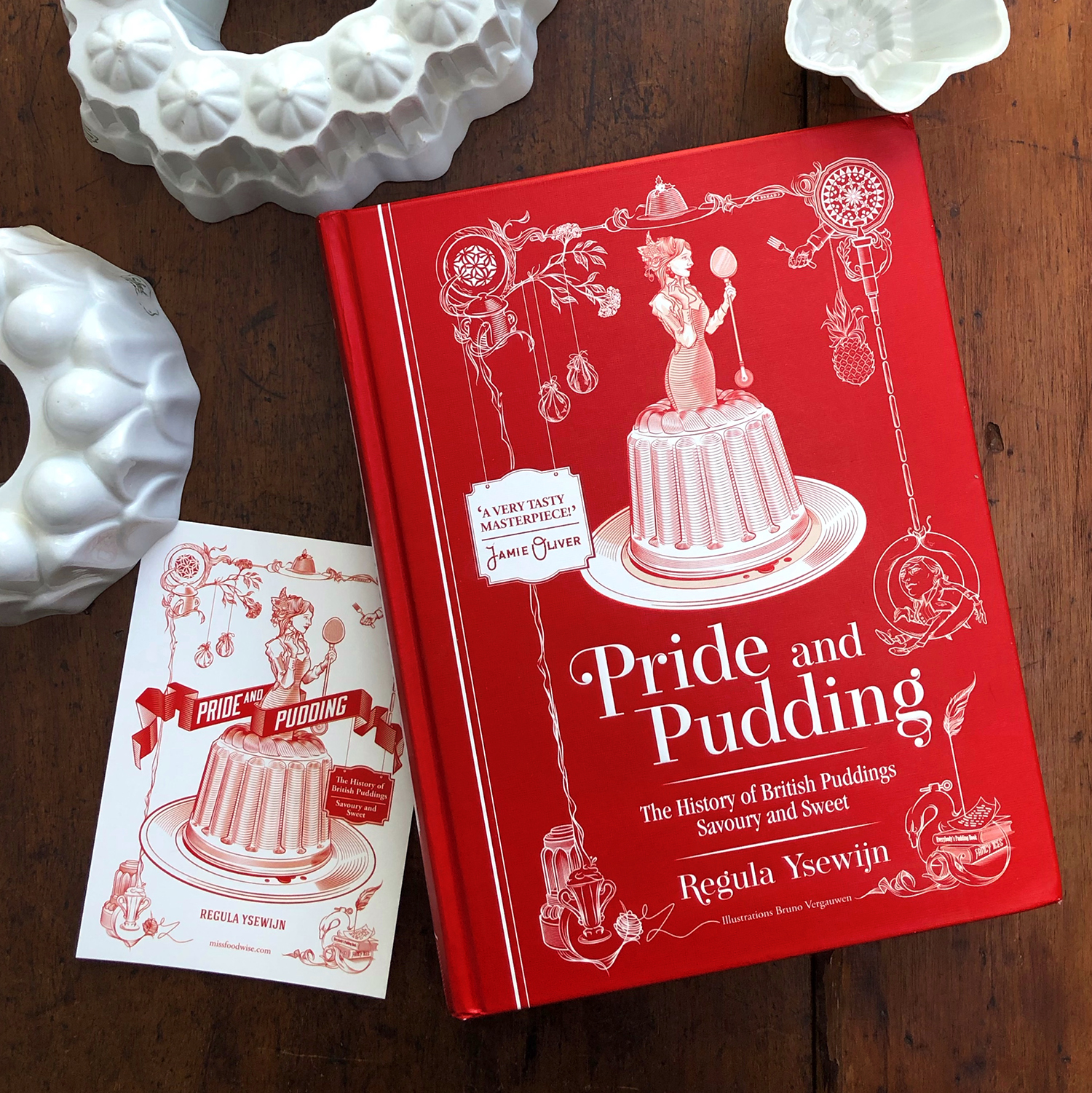 01 Oct

Pride and Pudding

Pride and Pudding – The history of British Puddings Savoury and Sweet takes you on a journey through the fascinating culinary past of Great Britain.
Published by Murdoch Books in Britain, Australia and New Zealand. Also available in a Dutch translation.

Why this book?

Every book I write is about preserving a heritage, because in the present day far too much importance is given to new and exciting things while the past holds a treasure of beauty that is often forgotten. (See my other book Belgian Cafe Culture 

HERE

)

 

Captivated by British cuisine – from its ancient savoury dishes such as the Scottish haggis to traditional sweet and savoury pies, pastries, jellies and ices, flummeries, junkets and jam roly-poly – I tell the story of British food, paying homage in particular to the great British pudding, which is versatile and wonderful in all its guises.

 

By tracing back to authentic cookery texts, the earliest of which dates from 14th century, I have re-created more than 80 recipes for the twenty-first century, and in the process I have rediscovered long-forgotten flavours and food fashions. I show you how pudding evolved over the centuries from being a savoury, often meat-based sausage-like dish, to the more dessert puddings we know today.

 

Pudding was so important in British culture that even foreign visitors wrote about them and British food, for example this one, by a French visitor in his diary:
"Blessed be he that invented pudding for it is a manna that hits the palates of all sorts of people…ah what an excellent thing is an English pudding."
In the book I explore how religion and politics all influenced food and flavours, and how wartime shaped what British food is today.
Part food history and part recipe book, I tried to capture the essence of Britishness through its food, this is a different kind of cookbook.
It took me 2,5 years to complete the book, of which most of it was research.
The illustrations in the book are created by my husband and tell part of the stories, as do the photoghraphs which I have taken myself. I also designed the book, so as you can see this is a very personal project.
Pride and Pudding was selected as one of the best 'Books of 2016' by Sheila Dillon from the BBC Food Programme, Delicious Magazine, the Irish Times and the Guardian. It was also shortlisted for the prestigious Andre Simon Award and the Fortnum & Mason award. The book won the Gourmand World Cookbook Award for the UK, in the Food Heritage category
"What started out as a childhood hankering for traditional English fare has become an all-consuming social study of the historical treats of Britain. And this is the beautifully illustrated, hardbacked result. Ysewijn collected handwritten cookbooks and vintage pudding moulds. She researched the etymologies of our dish names and the chronologies of our tastebuds. Crucially, she cooked the ancient recipes she came across, photographing, in glorious, painterly detail, jaune manges and apple tansies and glimmery almond flummeries. What a beauty of a book this is."
THE GUARDIAN 'COOK'
"Pudding is such a rich and loaded word. It evokes images of cold winter nights, Yorkshire moors, a warming fire and a dense, oozy pudding to sate all hunger. Or, if your imagination so chooses, a medieval feast, puddings stuffed with animal fats and suet, slaughtered after a day's hunt. Either way, pudding is synonymous with England, as author Regula Ysewijn recognises in her tome Pride and Pudding."
THE WEEKLY TIMES
"It's hard to sum up how much I love this book – there are no new recipes in Pride and Pudding, yet it's the freshest, most revolutionary cookbook published during my food career. It's a book unlike any other – a celebration of British food that in its deliciousness brings to your table – because EVERY recipe makes you want to cook. The dishes that once made our food the envy of the French and Italians (can you believe it?). It's a work of art and of delight, of social history and the best cooking – altogether a rare and extraordinary masterpiece."
SHEILA DILLON, The Food Programme, BBC Radio 4
I've absolutely loved working my way through this richly illustrated book of historical puddings, which is packed full of mouth watering recipes – and many of them have found their way into BBC History magazine's regular recipe section, too
SAMANTHA NOTT, BBC HISTORY MAGAZINE