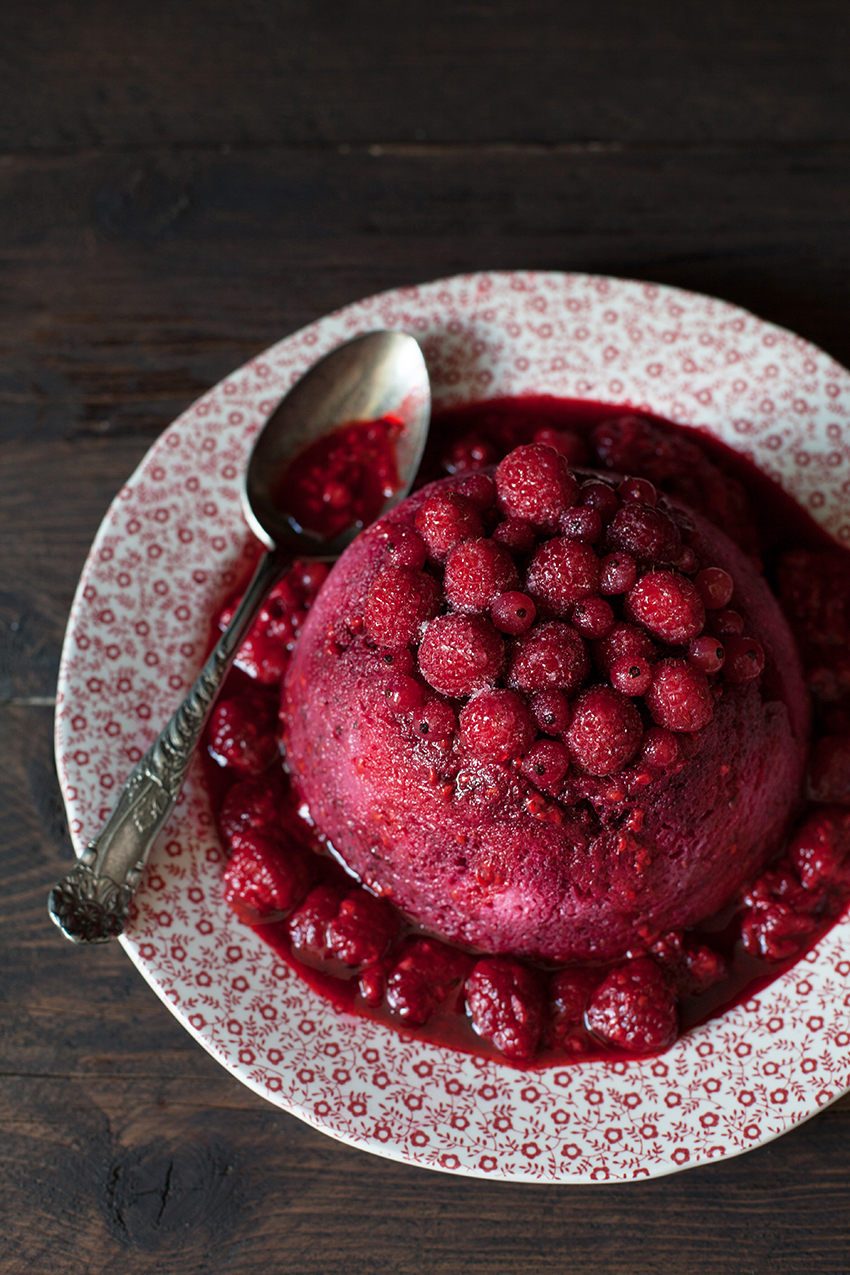 29 Sep

Summer pudding

There's a lot going on in life but I wanted to share this recipe with you because I find when things get too busy or too complicated, an easy yet satisfying pudding can work like a drink of ice cold water on a scorching hot day. What also prompted me was something my friend Sarah (you might remember her from the pies she made for my launch) showed me online, a link to the making of a summer pudding which created outrage and disgust in the comments section. Foreigners (non-Brits) didn't understand why you would eat soggy bread with fruit, and the video that came with it made even my stomach turn…

But the fact is that Summer Pudding is one of life's great things. Bread soaked in fruit juice takes me right back to my childhood. I was a very picky eater but you could always feed me bread topped with mashed up strawberries, the deep red juices seeping into the bread making it hard to get it to your mouth in one piece. It was messy eating but really the only thing I enjoyed to eat.

But what is this heavenly thing you ask if you aren't British or a pudding nut like I am?

A summer pudding is a delightfully light pudding which is made by lining a pudding basin or charlotte mould with stale white bread slices, then filling it up with lightly stewed summer fruits and topping it off with a juice-soaked bread lid. I always enjoy unmoulding this pudding, to see how the white slices of bread have been tinted by the deep crimson juice. It looks like a fresh red wine stain on a crisp white tablecloth. When ready to indulge, serve with cream, or ice cream, whichever you prefer.

As you can read in my book 'Pride and Pudding' this pudding was also known as a 'hydropathic pudding' and all the rage in the health spas of the nineteenth century. Its light bread casing instead of pastry or a suet crust (which was usually the case with real pudding) made it the perfect treat for the health-conscious ladies of that era.

The most important factor in making this pudding excellent is to use the best-quality white bread you can get your hands on. Cheap bread full of unnecessary additives will turn slimy and your pudding will certainly collapse. When the best products are used, the outcome is always outstanding. A few months ago when I was in Tuscany to host our 'Creative Gathering' workshop I discovered that Tuscan unsalted bread is actually the very best for Summer Pudding, only it comes in smaller loaves (unless if you bake it into a large tin loaf) so you will have to do some patchwork. I made one for my friend Giulia's Fettunta party and the Italians all approved.

Any kind of summer fruit should do for the filling: raspberries and redcurrants are traditional, blackberries can mix it up a little, but strawberries should be avoided as they do not remain pleasant enough to enjoy after a couple of hours or a night of soaking. I know, I told you before it reminded me of strawberry sandwiches, but those you eat after seconds of mashing the fruit, this pudding needs to rest at least for a few hours but ideally overnight.
650 g  raspberries
150 g blackberries
100 g redcurrants, or blueberries or frozen mixed berries
50 g (1¾ oz) sugar
a loaf of plain white bread
Lightly grease the pudding basin and line with plastic wrap so the pud will be easier to remove when soaked all the way through.
Toss all the berries into a saucepan and heat gently with the sugar to get the crimson juices running, no longer than 2–3 minutes. When using frozen berries, which is fine and far more economical, do the same, but it will need a little longer to stew. Let the berries cool in the pan.
Cut a round out of a slice of your bread to fit the bottom of the basin. Now cut the rest of the bread in 1 cm (3/8 inch) thick slices—about 6 slices or as many as you need—and trim them into a slight trapezium shape to fit the sloping edges of the bowl. If your bowl is straight or you are using a cake pan
or charlotte mould, you don't need to fuss with cutting shapes, just remove the crusts. On this occasion you really do need to remove the crusts.
Line the basin or mould with the bread, making sure there are no gaps, so the filling will stay in. Now spoon the cooled berries into the bread-lined basin, reserving as much of the juice in the saucepan as you can manage.
Cover the pudding with another slice or slices of bread and pour over some of the reserved juice so the bottom is nicely covered, nothing more. Reserve the remaining juice for serving.
Place a plate or a lid on the pudding and put a weight on top of it. A tin of tomatoes is what I use.
Refrigerate overnight so the bread can soak up the juices nicely.
When ready to serve, open the plastic wrap, place a plate on
top of the basin or mould and invert.
Pour over the reserved juice and serve with vanilla ice cream, or just as it is.
Makes enough for a 17 cm diameter pudding basin; you could also use a rectangular cake pan (though I do not like the shape) or a charlotte mould