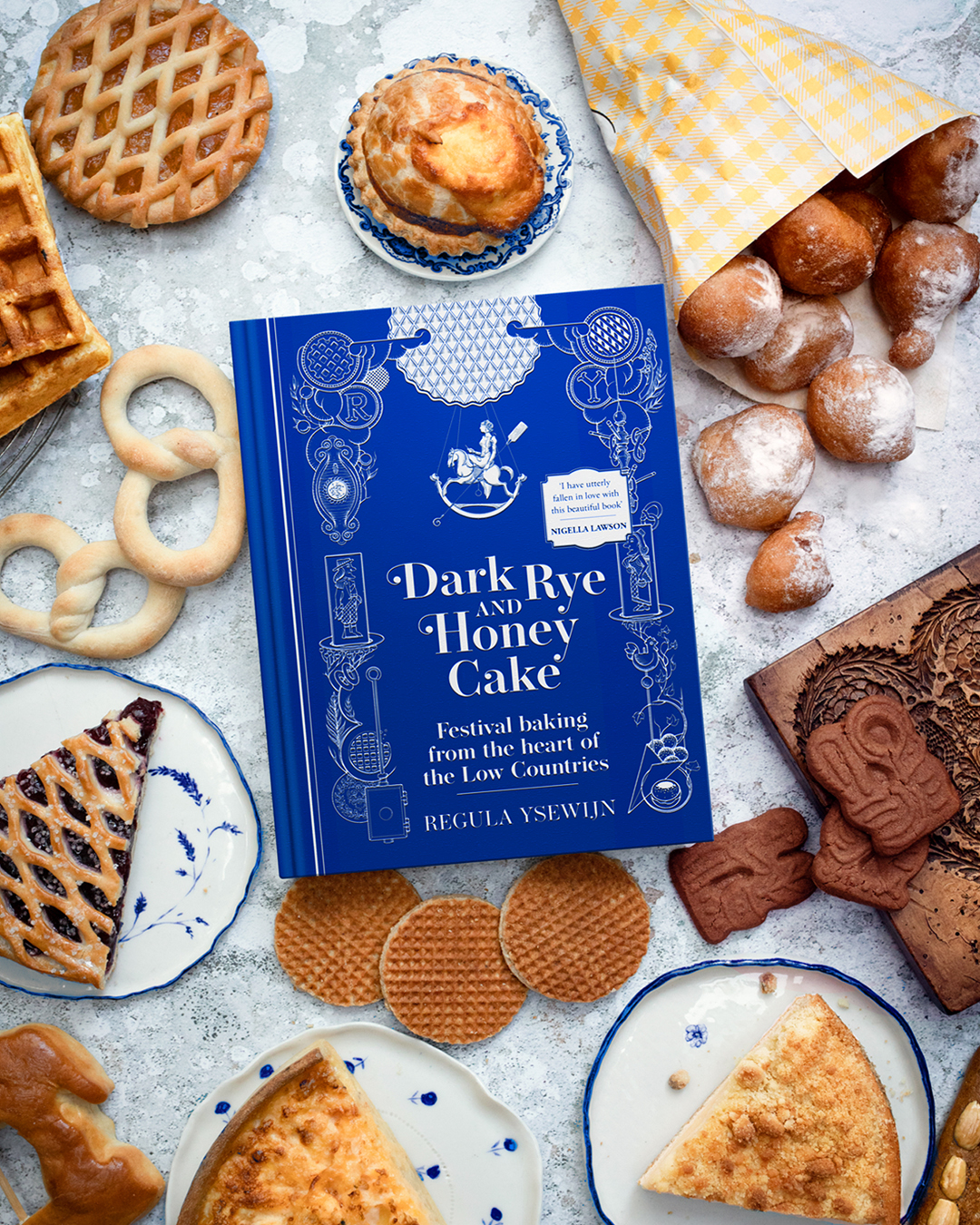 25 Jan

Dark Rye and Honey cake

"I have utterly fallen in love with this beautiful book." "It is a majestic achievement, and a fascinating read."
NIGELLA LAWSON

"The scholarship here is astonishing. It is an engrossing, original and beautiful book." DIANA HENRY

From the heart of the Low Countries of northwestern Europe, Belgium has long forged a distinctive culinary identity through its seasonal feasts and festivals. In this follow-up to her internationally lauded Pride and Pudding and Oats in the North, Wheat from the South, Regula Ysewijn turns her attention to the baking traditions of this unique country – the place of her birth.

Regula uses history and art to guide the reader through a fascinating period, and paints – through her stunning photography and recipes – the landscape of the region's rich baking culture. Dark Rye and Honey Cake explores a whole year of rustic bakes, unearthing long-forgotten recipes and reviving treasured favourites. There are waffles and winter breads for the 12 days of Christmas, pancakes for Candlemas and Carnival, pretzels for Lent, vlaai and fried dough for Kermis and all the special sweet treats that make up Saint Nicholas and Saint Martin.

With this collection of timeless recipes, Regula reveals the origins of her country's ancient food culture and brings a little Belgian baking into every home.
Recent interviews:
Borough Market podcast here >
"This is a gorgeous book; full of recipes I want to cook, foods I want to eat, and pictures I want to lose myself in for hours on end." DR ANNIE GRAY, BBC The Victorian Bakers and The Sweetmakers and author of The Greedy Queen
"A rare glimpse into the rich and fascinating food culture of one of our closest neighbours – a work of scholarship, but also a work of art." FELICITY CLOAKE, Guardian and author of One More Croissant for the Road and Red Sauce Brown Sauce
"An irresistibly tactile book, and a work of art in its own right, filled with detail and description, glorious photography and curious tales, surprise and satisfaction. I cannot think of a single person that it would not appeal to." CAROLINE EDEN, author of Black Sea and Red Sands
"A beautifully illustrated volume of recipes with history, Regula Ysewijn, a Belgian author and photographer, explores holiday baking traditions, notably for Christmas and Lent, through the lens of history." The New York Times
TO ORDER a copy
Please always consider your local bookstore, even if they don't have the book in stock, most stores are happy to order it for you! If you own a bookstore and I can do something to help, get in touch!
For the English and US/English edition follow this link and choose your favourite shop or goo to your local bookstore
For the Dutch edition please order at your favourite local bookstore