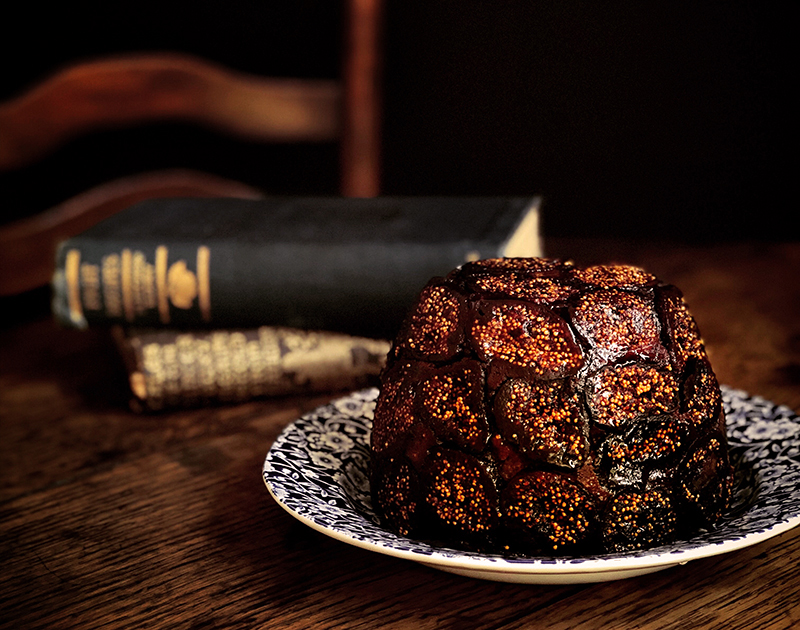 29 Sep

Figgy Pudding

Today is Stir-up sunday and the most important day on the pudding calendar. Today is the day to prepare the Christmas pudding, or plum pudding. Why this should be done a month before Christmas is something I've written about in a previous posting here and in my book Pride and Pudding. But this year I wanted to give you an alternative to the traditional plum pud. A figgy pudding is just another name for a plum pudding – and both of them generally refer to puddings made with raisins or currants and no figs at all. However there have been recipes for figgy pudding in the late 19th century, but those recipes did refer to puddings made with figs and didn't give a recipe for plum pudding. Using dried figs, this results in a dark and luxurious winter pudding. Why not have this as your pudding on Christmas day for a change this year? This is a recipe from my little book the 'National Trust Book Of Puddings' which was published in april (2019).

Maybe you have noticed on instagram or you have spotted one of my previous post about the copper pudding basin I developed with the people from Netherton Foundry? It creates a perfect pudding because copper holds the heat much better than ceramics do. It is a pudding basin for life, and one to pass on to your sons and daughters, because this is seriously durable and also incredibly pretty. To find out more about the copper pudding pot, go over to Netherton Foundry's website here.
400g dried figs
3 tablespoons golden syrup
120ml red wine
20ml Cointreau
60g currants
For the pudding
110g plain flour
60g shredded suet
120g brown sugar
60g fresh breadcrumbs
1 teaspoon baking powder
1/2 teaspoon ground nutmeg
1 teaspoon mixed spice
Pinch of salt
2 eggs
75ml stout or porter beer
for a 1.1-litre pudding basin
Start the day before you want to make the pudding. Put the figs and golden syrup into a saucepan with the red wine and Cointreau and bring to a simmer for about 5 minutes, stirring to immerse the figs in the liquid. When the figs have softened, remove them and set aside while simmering the liquid until it becomes syrupy. Cut any tough stems off the figs, then halve the figs and put them in the syrup to soak overnight. Soak the currants separately in a little water. It is also best to mix the pudding a day or a few hours in advance. Mix together all the dry ingredients in a large bowl, then add the eggs, currants and stout and mix well by gently stirring with a wooden spoon.
Prepare a 1.1-litre pudding basin for steaming and preheat the oven to 160C. See how to prep a pudding basin on this post about Christmas pudding here >
Arrange the halved figs all around the basin. Chop any leftover figs and fold them into the pudding mixture then spoon the mixture into the basin, cover and steam in the oven for 3 hours.
When done, turn the pudding out on to a plate. Warm any leftover syrup and drizzle over the pudding. Slice and serve with custard or clotted cream.