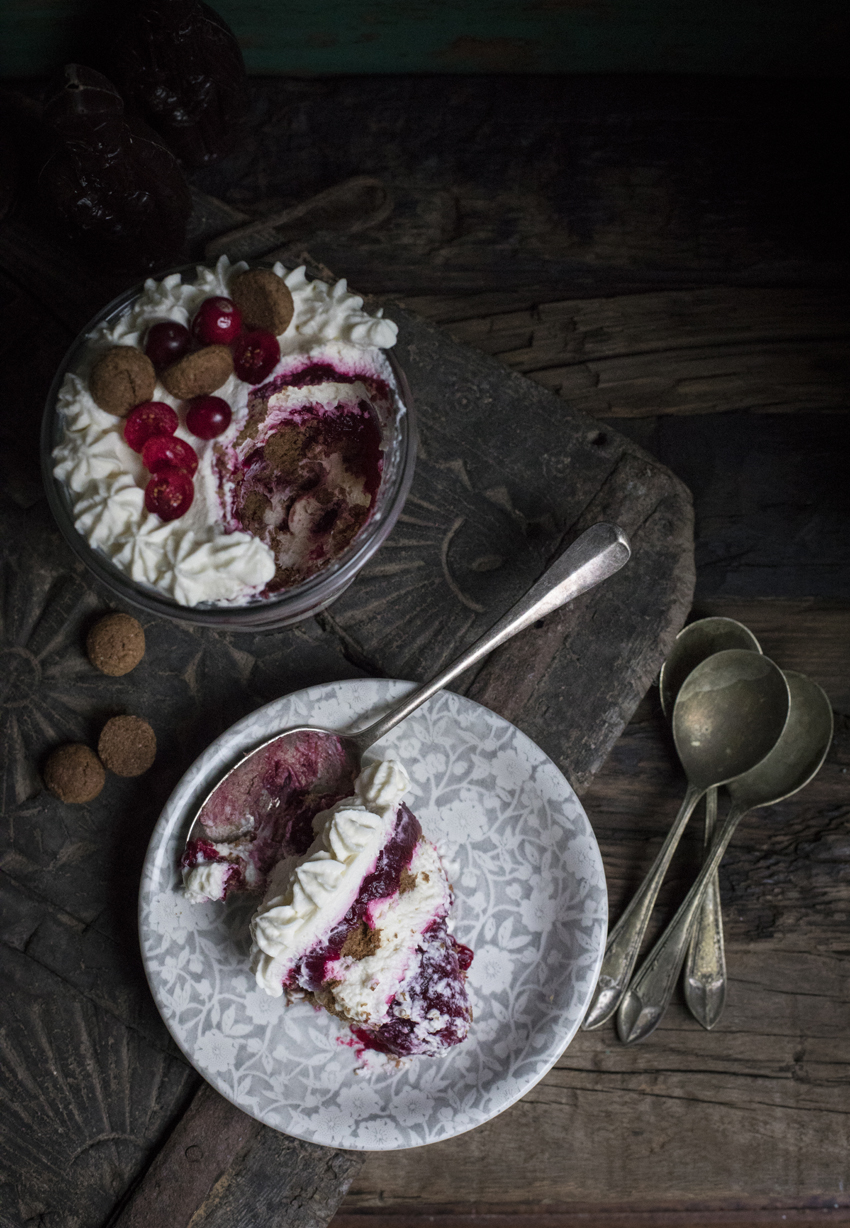 29 Sep

Latvian rye bread Trifle

Rupjmaizes kārtojums

In februari last year I went on a backpacking trip to Latvia, doing some research for one of my projects and with it met up with a woman I had met at the Oxford Symposium.

One of the most memorable things I ate while in Latvia was a Rye bread trifle with cranberries on lingonberries they call 'Rupjmaizes kārtojums'. It is made by grating the iconic sweet Rye bread and lightly frying the crumbs then layering it with cream and curd cheese and the tart red cranberries they use so often in their cuisine. It was offered to me by the host in 'Zaku Krogs' a most wonderful Jamaica Inn-like ex-rabbit hunters Inn in Jurkalne which is about an 2,5 hour drive from Riga. The drive there takes you through forests which are laden with berry shrubs and strange small villages with Soviet-style blocks of flats.
350 g fresh or frozen cranberries or lingonberries
1 tbsp of sugar
300g kruidnoten or strong speculoos (no Biscoff!!) – or make the traditional version using 300 g of grated Rye bread
optional: alcohol, I used sloe gin which was incredible
300 g 40% fat cream
100 g ricotta or curd cheese
Method
If you want to make the kruidnoten there is a recipe for them on my blog from way back in 2011, you can find it here >
You need a trifle bowl or individual glasses like jam jars. I used the same jar as my host in Latvia used for this one.
First make the cranberry coulis (keep some cranberries for decoration) by simmering them in a pot with the sugar until you get the texture of apple sauce. You will need to add water from time to time and the ideal consistency should be that it is thick enough to leave a line in the pot when you go through it with your spoon, yet runny enough so it drops from your spoon. Some berries give more juice than others, so it is impossible to give exact instructions. Just think: too wet and the trifle will be a soggy mess, too solid and it will not blend well enough.
If you're using Rye bread crumbs, lightly fry the crumbs in a dry heavy bottomed pan, don't colour them. Let the crumbs cool.
Let the cranberry coulis cool off but let it not be fridge-cold when you use it.
Make the cream mixture by whisking the cream until you get nice peaks and then adding the ricotta. Fill your piping bag and place in the fridge while you prepare the biscuits.
Place the biscuits in a bowl but leave some behind for decoration. Drizzle the alcohol over the biscuits, not too much, there should not be a pool of booze in the bottom of the bowl. If you are using Rye bread, don't soak the crumbs in booze. Now take your chosen glass bowl or individual glasses and make a first generous layer of biscuits or bread, then add a layer of the cranberry.
Now pipe a layer of cream on top and proceed by adding another layer of biscuits, then cranberry then cream until your bowl is full or you run out of product. Just make sure you end up with a creamy top.
Place in the fridge for a few hours or overnight so the trifle can blend nicely. Before you serve decorate how you please.
Now enjoy the sound and the feeling of diving into a trifle with your spoon.