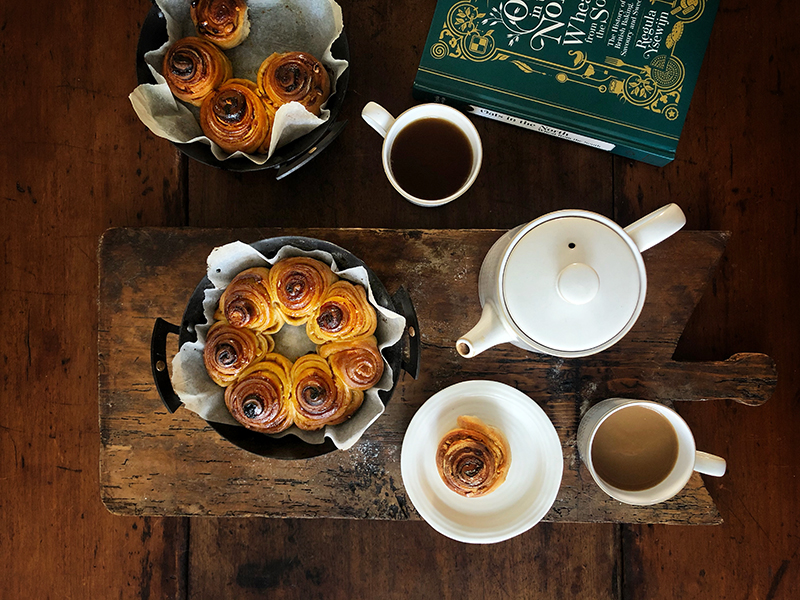 10 Feb

Mini Chelsea bun crowns

These buns are a variation on my Chelsea buns from my book Oats in the North (The British baking book/Brits Bakboek) but made so that you can leave the dough at room temperature overnight. If you want to bake them to eat on the same day, add more yeast as explained below.

Makes 3 small crowns
6 g dried yeast (15 g if you are baking on the same day, then first rise is 1 hour)
300 ml  full-fat milk, room temp (lukewarm if you're baking on the same day)
500 g  strong white bread flour
60 g  raw (demerara) sugar or white sugar
1 tsp ground cinnamon (or use pumpkin spice instead of the spices)
1/4 tsp ground mace

¹⁄

8 

tsp ground coriander
70 g  butter, at room temperature, cubed
1 egg
5 g  fine sea salt
For the filling
3-4 tbsp lemon curd
2 tbsp fine sugar
Chopped hazelnuts
Milk for brushing
For the sugar syrup
60 g (2. oz) raw (demerara) sugar or
white sugar
5 tbsp water
caster (superfine) sugar, for sprinkling
Method
Combine the flour, yeast, sugar and spices in a large bowl or the bowl of an electric mixer fitted with a dough hook and put the butter on top. Pour half of the milk over the butter and start kneading. When the milk and butter are completely absorbed, add the rest of the milk , along with the egg. Knead for 5 minutes, then let the dough stand for a few minutes (at this point it will be very wet). Add the salt and then knead for 10 minutes, scraping the dough off the dough hook and side of the bowl if needed, until the dough has come together in a smooth and elastic dough that is not too dry but also not terribly wet.
Cover the dough and set aside for 1 hour until it has doubled in quantity – OR WHEN USING THE OVERNIGHT METHOD: cover the bowl with the dough with plastic and leave until te morning at room temperature.
Line the baking tin or pan(s) with baking paper. Towards the end of the resting time, or in the morning, preheat the oven to 210°C
Divide the dough in two and shape one piece to a rectangle, roll out as thinly as possible, making sure you keep the shape (I've posted a video on my instagram feed @Missfoodwise)
Spread the dough with half the lemon curd, sprinkle over half the sugar and cover in half the chopped nuts. Divide lengthwise in 3 cm strips and roll those over to fill your tin(s) or pan(s) with. Do the same with the other half of the dough and then brush the buns all over with milk. These buns do not need to rise as we want the layers thin, so you can now immediately bake them! However if you like you can of course let them rest for an hour, or more, and your layers won't be as thin.
Bake for about 20 minutes until golden brown, meanwhile prep the sugar syrup by heating the sugar and water in a small saucepan until the sugar has dissolved. Brush the buns with the sugar syrup as soon as they come out of the oven and then decorate with either coarse sugar, tiny sugar nibs, more nuts or leave plain and shiny!
The next day the buns are easily reheated in a hot oven for 5 minutes, they'll taste freshly baked!
Enjoy!