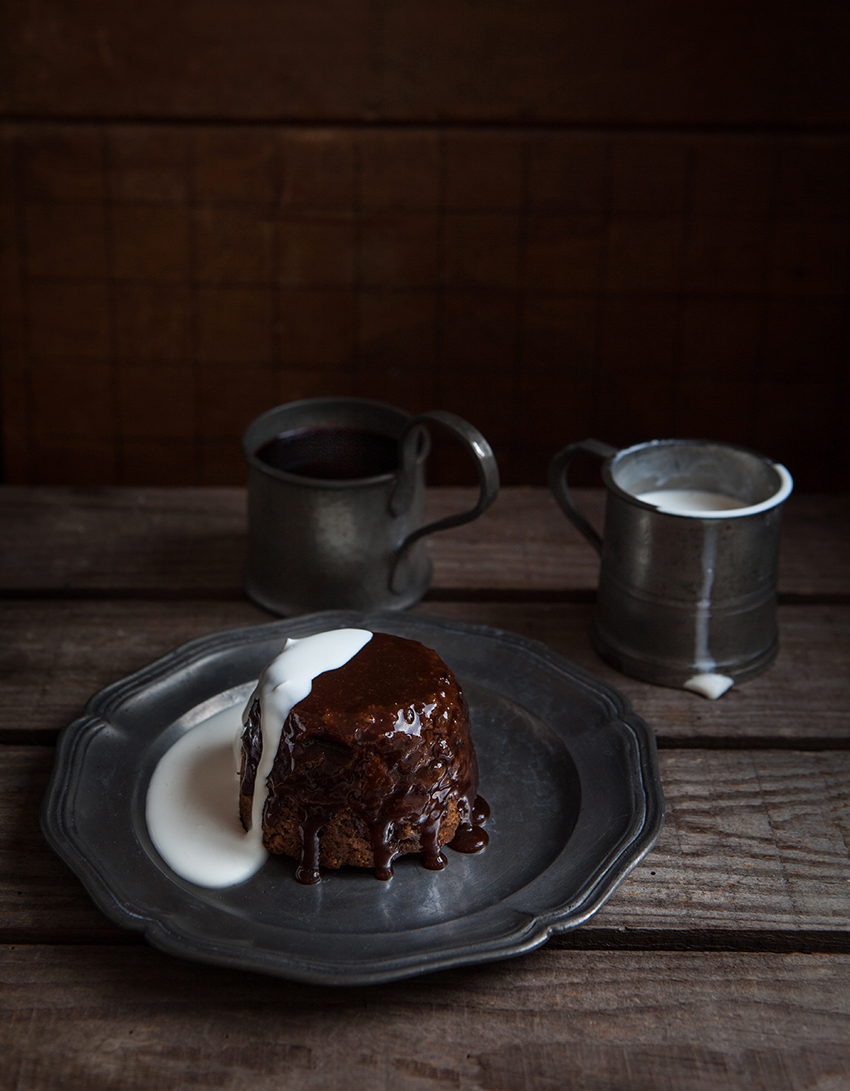 14 Mar

Sticky Toffee Pudding

How to make Sticky toffee pudding with prunes

Recipe from my 'book Pride and Pudding'

Makes 8 small puddings in 7–8 cm basins ; alternatively, use a muffin tray, which will give a slightly different result as the holes are shallower.
225 g (8 oz) pitted prunes
85 g (3 oz) unsalted butter, softened
100 g (3. oz) muscovado (dark brown) sugar
2 eggs
2 tablespoons apple butter, or add an extra tablespoon of sugar or golden syrup
a pinch of salt
175 g (6 oz) self-raising flour
thick cream, custard or ice cream, to serve
Toffee sauce
50 g (1. oz) unsalted butter
175 g (6 oz) muscovado (darkbrown) sugar
200 ml (7 oz) thick (double) cream
1 tablespoon apple butter or 1 teaspoon extra of golden syrup
Prepare the individual pudding basins by greasing them with butter and placing a small disc of baking parchment into each basin.
Put the pitted prunes in a heatproof bowl and pour boiling water over them to cover. Allow to stand for about 15 minutes, then drain and use a blender to reduce the prunes to a puree.
Preheat the oven to 180C.
In a clean bowl, combine the butter with the muscovado sugar and beat until pale and creamy. Add the eggs and whisk to create a light batter. Fold in the apple butter and the prune puree and a super-tiny pinch of salt. Sift in the flour and mix well to combine.
Pour the batter into the prepared pudding basins and place in a baking dish or deep tray, adding boiling water to come halfway up the sides of the basins. Cover the dish with foil and steam in the middle of the oven for 40–50 minutes, checking after 30 minutes by inserting a toothpick into the pudding to see if it comes out clean.
Allow the puddings to cool slightly in the basins. (If not needed immediately, freeze them in the basins and reheat in the microwave after defrosting.) When you are ready to serve, loosen the pudding from the basin with the tip of a knife and turn it out like a cake.
Prepare the toffee sauce by melting the butter in a saucepan over medium heat, then add the other ingredients and simmer until the sugar is dissolved. Dip hot puddings in the sauce and pour cream over to serve or serve in a pool of custard.