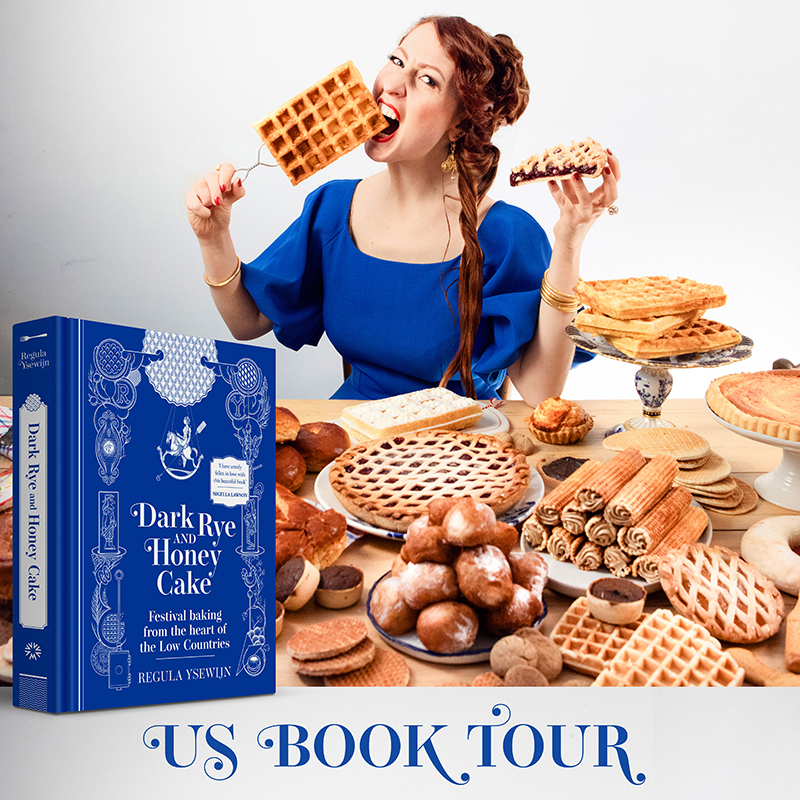 25 Apr

American Book Tour dates

Regula is coming to the US for her 'Dark Rye and Honey Cake' book tour. More dates and info will be added soon. For May Regula is heading to the West Coast

Dark Rye and Honey Cake – Festival Baking from Belgium, the heart of the Low Countries.
San Francisco
Omnivore Books – Thursday 18 May
6:30 PM
Author talk. The event is free but you do need to book to secure your place as spaces are limited. Book here >
Location: 3885A Cesar Chavez St. San Francisco, CA 94131
Seattle
Book Larder – Saturday 20 May
10:oo – 11:30 AM
Author talk. Moderator: Rachael Coyle, owner of Coyle's Bakeshop, Seattle
Entry $5 or free when you purchase the book (you can choose on the event page)
spaces are limited so be sure to book your spot here >
Location: 4252 Fremont Ave N Seattle, Washington 98103
Los Angeles
Now Serving – Thursday 25 May
7:00 PM
Author talk. Regula will be interviewed by Nik Sharma, a molecular biologist turned two-time James Beard finalist and best-selling cookbook author of The Flavour Equation and Season.  
Location: 727 N. Broadway Unit 133 Los Angeles, CA 90012 (213) 395-0627
East-coast dates 
About the book
In Dark Rye and Honey Cake, acclaimed food writer and historian Regula Ysewijn turns her focus to the bakes and culinary history of her Belgian homeland.
"A beautifully illustrated volume of recipes with history." 
The New York Times
From the publisher: 
From the heart of the Low Countries of northwestern Europe, Belgium has long forged a distinctive culinary identity through its seasonal feasts and festivals. In this follow-up to her internationally lauded Pride and Pudding and Oats in the North, Wheat from the South, Regula Ysewijn turns her attention to the baking traditions of this unique country – the place of her birth.
Regula uses history and art to guide the reader through a fascinating period, and paints – through her stunning photography and recipes – the landscape of the region's rich baking culture. Dark Rye and Honey Cake explores a whole year of rustic bakes, unearthing long-forgotten recipes and reviving treasured favourites. There are waffles and winter breads for the 12 days of Christmas, pancakes for Candlemas and Carnival, pretzels for Lent, vlaai (pie) and fried dough for Kermis and all the special sweet treats that make up Saint Nicholas and Saint Martin.
With this collection of timeless recipes, Regula reveals the origins of her country's ancient food culture and brings a little Belgian baking into every home.
"I have utterly fallen in love with this beautiful book." "It is a majestic achievement, and a fascinating read."
NIGELLA LAWSON
"The scholarship here is astonishing. It is an engrossing, original and beautiful book." DIANA HENRY
Dark Rye and Honey Cake is published in the UK, AUS, NZ by Murdoch Books, in the US by Weldon Owen and in Belgium and the Netherlands by Overamstel